Al Dottore Ersilio Trapanese la Presidenza di Nefrocenter Research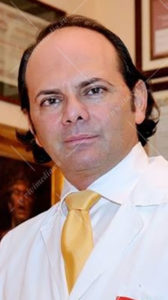 Ersilio Trapanese MD, Ph.D. (Oncology) The Costantinian University State of Rhode Island (U.S.A.), Member of the Board of Directors De Beumont Bonelli Foundation for Cancer Research – Naples, Italy. Fellow of the Scientific Committee De Beaumont Bonelli Foundation for Cancer Research – Naples, Italy. Ultrasonography Specialist & Interventional Ultrasound Thyroid Cancer American Thyroid Association (ATA)  U.S.A. THE KOREAN  SOCIETY OF RADIOLOGY  KSR  International Membership of the Korean Society of Radiology Seoul, South Korea, ieri è stato nominato presidente di Nefrocenter Research. 
Laureato alla Federico II di Napoli in Medicina e Chirurgia, iscritto al Registro Nazionale Medici Ecografisti SIUMB, membro della commissione Scientifica e del C. di A. della Fondazione per la Ricerca sul Cancro "de Beaumont Bonelli Foundation", ha conseguito numerose qualifiche e specializzazioni in Italia e all'estero, tra le quali, il Diploma Nazionale di "EcocolorDoppler", certificate of MEMBERSHIP EFSUMB, master nazionale in Ecografia Interventistica del Fegato, Ecografia nella Diagnostica Senologica presso l'Università La Sapienza di Roma, master Nazionale in Ecografia Interventistica del fegato e mezzi di contrasto CEUS, V master Nazionale di Ecografia ed Ecointerventistica in Epatogastroenterologia.
Il Dottore Trapanese, da 21 anni, è Direttore Sanitario Responsabile Diagnostica per immagini: Ecografia ed Ecointerventistica presso il Centro Polispecialistico C.M.M. DIAGNOSTICA di Cava de' Tirreni, Medico Conduttore di Sala Dialisi presso il il citato Centro Medico Metelliano e da 13 anni è Docente presso l'Azienda Ospedaliera "D. Cotugno" di Napoli – Scuola di Ecografia – Ecointerventistica ed EcocolorDoppler – SIUMB,  nonché Socio Fondatore e Docente della SIEMC Società Italiana di Ecografia in Medicina e Chirurgia Bari.
Al suo attivo numerose candidature a premi internazionali come il WOLF PRIZE in the Sciences WOLF FOUDATION – Herzlia Pituach – Israel, LASKER AWARD Basic Medical Research (conosciuto come America's Nobels) Albert and Mary LASKER FOUNDATION – New York – NY, The Costantinian University State of Rhode Island – USA Dottorato di Ricerca: "Doctor of Philosophy Ph.D. in Oncology" (Dr. hc) State of Rhode Island – United States of America, Premio Internazionale Scuola Medica Salernitana "LUMEN ET MAGISTER" per la Ricerca Scientifica -Università Nuova Scuola Medica Salernitana – Popular University – Italy, Premio Award Universum Medical & Scientific Research 2016 International University of Peace Switzerland Citta' Metropolitana – Genova.